Tried something NEW!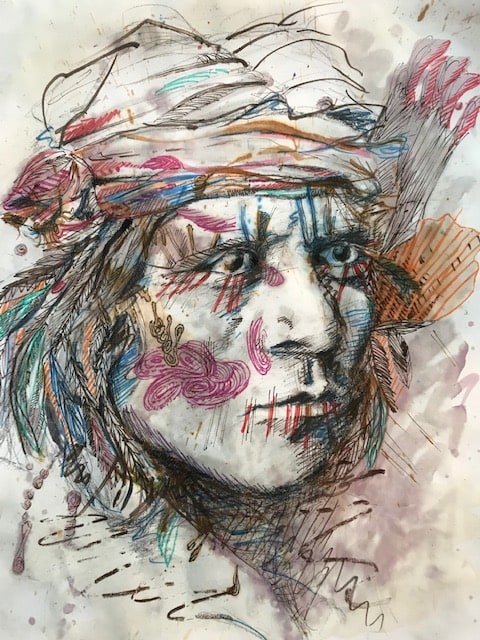 I am a person who has to have everything under control normally and my art reflects that control but... last week I tried something new!
I did a quick sketch one of my drawings "Reservations" on some drawing paper out of my sketch book. Then, I gathered my materials: Some tea, elderberry vodka, water, watercolors, charcoal pencil, white pastel pencil, fine line markers, paint brushes. a straw and an eraser. At first, I was a bit hesitant and scared to be "unstructured" and "out of control" but I took my eraser and swiped it across my sketch randomly here and there removing some of the pencil marks I'd previously put on the paper. Then I took a paint brush and dipped it in the tea and began wetting my drawing paper in broad sweeping motions. This action was even more scary than the eraser but as I got immersed in the moment it felt strangely liberating and freeing. Next, I dipped my paintbrush in the alcohol and swiped and flicked here and there. I was really enjoying the affects the different mediums had on the paper as I tried each of them out. I added some water colors here and there stroking and flicking with my paint brush and sometimes blowing with the straw. I added some charcoal scribbles here and there. Some parts were dry by now so I added some small details with the markers here and there. I added some more water color and alcohol where I thought it needed and more detail with the markers until I was satisfied.
Then I stepped back and looked at what I had created. It was pretty crazy and I wasn't sure how people would react but I posted it on my Facebook and instagram page to get their reactions. Everyone loved it! It took me by surprise.
The reason I even attempted this type of art was because I was at a popular arts and crafts store and this book "The Organic Painter" by Carne Griffiths just literally jumped off the shelf and into my arms and so I bought it. I took it home and read it that night and wanted to try it out but I didn't. It sat there for about 3 months until I had some inspiration to try it with my Native American portraits. I really wanted to try it with my latest drawing "Bear Bull" but I was scared. That's when I figured I should practice first so I started with this sketch last week.
And today... I did this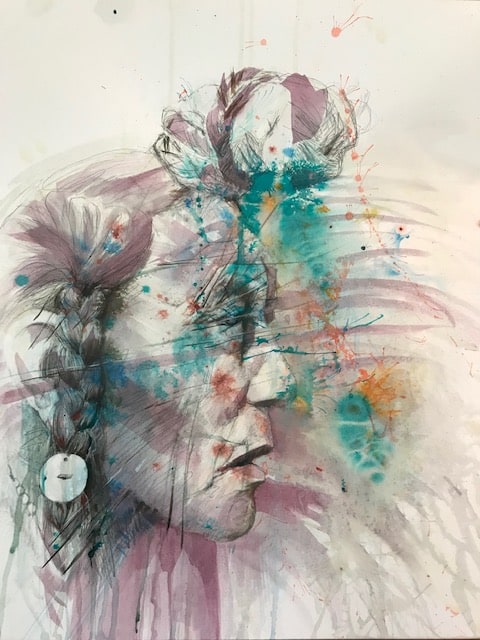 I'm not done with it yet. I got it pretty wet with water, tea, alcohol and inks so it will take a few days to dry before I can add more layers and details. I'm pretty excited about it so far.